Apartment Superior Two-Bedroom №13
Description
Rent price for apartment # 13 (EUR)
The price is for accommodation of 4 persons.
Season
Working
days
Fr, Sa,
holidays
Month
Jan Feb Mar Apr
Rented till 01.03.2023
15.04-17.04 (Easter)
May
June
23-25.06 (Līgo)
July
August
Sep
Oct Nov Dec
24.-26.12. & 31.12-02.01
Improved layout for a comfortable stay for the whole family or several families
The main difference and convenience of this apartment is its own bathroom for each bedroom ( shower or bathroom).

Apartment living area: 76 m2
Standard number of guests: 4
Maximum number of guests: 6

The baby cot can be added to the room
Additional placement on the living room sofa bed
Bed size: Double bed
Balcony
Two restrooms, bathroom and shower room
Air-conditioning and a safe
Home Appliances:
TV with large channels choise
Laundry machine Bosch
Dishwasher Bosch
Oven, stove Bosch
Refrigerator Bosch
Microwave Whirlpool
Iron and ironing board, hair dryer, toaster, electric kettle
Coffee machine
Kitchen utensils:
Table set for 6 people
Glasses, cutlery for 6 guests
Kitchen accessories
Pots sets, pans
Beach (200m)
Jomas street (50m)
Hall "Dzintari" (100m)
Children forest park (150m)
Airport 15 min
Riga 20 min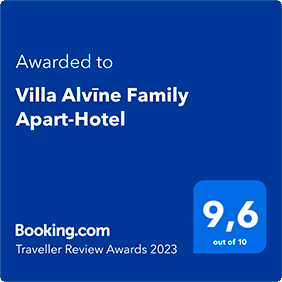 Cancellation Policy
Cancellation Policy:
If guests decide to cancel reservation, but no later than 5 days before the scheduled date of arrival, full payment will be returned .
If guests don't show up at all , full payment will be collected.
Attention! During the period from June 1 to September 1, 2022, payment for the stay must be made 100% of the total amount at the time of reservation. If cancellation is made no later than 14 days before the arrival date, full amount of the payment will be refunded. If guests don't show up at all, full payment will be collected.
To cancel a reservation , you can contact us by phone +371 66222100 Nevertheless, you have to send us a message about your wish to cancel the booking to This email address is being protected from spambots. You need JavaScript enabled to view it. . After that, our employees who are responsible for this reservation , will send You the confirmation of this cancelation.
In case of no-show, if guest won't contact hotel in first 24 hours, and won't confirm reservation, hotel will automatically cancel reservation.