Alvine Types (35)
Saturday, 17 April 2021 13:04
Written by Super User
Bath house — sauna, Turkish bath (a hammam), relaxation area and massage room
A brand new bath house at "Villa Alvīne"
Bathing can have many health benefits without adverse effects. Still it is not only healthy, but also pleasant both for the body and soul. We have no doubts that a new bath house will be an excellent complement to your unforgettable stay at the "Villa Alvīne" aparthotel. Just a few hours of bathing rituals will restore your strength, ignite your energy, boost your immune system and make you feel relaxed and full of positive emotions.

Our new bath house is very cozy and nice – we hope it will be immensely popular with the guests of "Villa Alvīne" aparthotel and residents of the " Turaidas kvartāls" residential complex. After all, what could be more pleasant than to plunge into relaxing atmosphere of wellness after a long walk in a pinewood or exciting day on the beach, or maybe have a romantic date with a loved one?
On the ground floor of the bath house there is a sauna, a Turkish bath (a hammam) and a relaxation area where you can stay after bath or an esthetic treatment, have some herbal tea and relax listening to subtle sounds of music in the background. On the first floor there is a massage room and an adjoining room with two beds, the mattresses of which are filled with fragrant hay for our guests to enjoy the fantastic scent of mowed herbs.
Prices at bath house (EUR)
Relaxation session (for 2 persons)
for the first hour
40
for 2 hours
60
Massage (by appontment):
Classic massage(60 minutes)
50
Aromatherapy massage (60 minutes)
50
Back massage (30 minutes)
30
Foot massage (30 minutes)
30
Pressoherapy session
"Lymphatic drainage boots" (30 minutes)
10 EUR
Bath and massage booking:
+371 29 224972 ("Villa Alvīne" reception)
This email address is being protected from spambots. You need JavaScript enabled to view it.

"Villa Alvīne" is at your service - our mission is to make our guests happy and relaxed!!


Beach (200m)
Jomas street (50m)
Hall "Dzintari" (100m)
Children forest park (150m)
Airport 15 min
Riga 20 min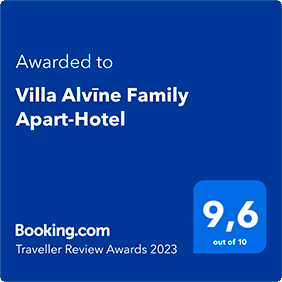 Wednesday, 17 March 2021 07:53
Written by Super User
Apartment with terrace and fireplace Deluxe Two-Bedroom №21
Description
Rent price for apartment # 21 (EUR)
The price is for accommodation of 4 persons.
Season
Working
days
Fr, Sa,
holidays
Month
Sep Oct Nov Dec
Jan Feb Mar Apr
Rented
Spacious apartment with the largest terrace in the hotel
Apartment No. 21 is located on the 4th floor. Its layout allows you to enjoy a bright, airy living and dining area.


The terrace is located along the entire apartment, there is an area for receiving guests and relaxing. The peculiarity of this apartment is a large wood-burning fireplace with a carved wooden portal. A great option for a long stay!
Apartment living area: 113 m2
Standard number of guests: 4
Maximum number of guests: 5

The baby cot can be added to the room
Additional placement on the living room sofa bed
Bed size: Double bed
Outside patio
Two restrooms, bathroom and shower room
Air-conditioning and a safe
Home Appliances:
TV with large channels choise
Laundry machine Bosch
Dishwasher Bosch
Oven, stove Bosch
Refrigerator Bosch
Microwave Whirlpool
Iron and ironing board, hair dryer, toaster, electric kettle
Coffee machine
Kitchen utensils:
Table set for 6 people
Glasses, cutlery for 6 guests
Kitchen accessories
Pots sets, pans
Beach (200m)
Jomas street (50m)
Hall "Dzintari" (100m)
Children forest park (150m)
Airport 15 min
Riga 20 min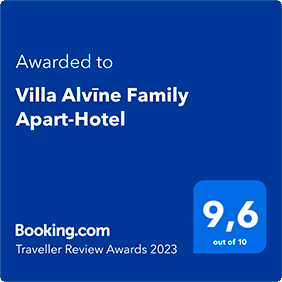 Cancellation Policy
Cancellation Policy:
If guests decide to cancel reservation, but no later than 5 days before the scheduled date of arrival, full payment will be returned .
If guests don't show up at all , full payment will be collected.
Attention! During the period from June 1 to September 1, 2023, payment for the stay must be made 100% of the total amount at the time of reservation. If cancellation is made no later than 14 days before the arrival date, full amount of the payment will be refunded. If guests don't show up at all, full payment will be collected.
To cancel a reservation , you can contact us by phone +371 66222100 Nevertheless, you have to send us a message about your wish to cancel the booking to This email address is being protected from spambots. You need JavaScript enabled to view it. . After that, our employees who are responsible for this reservation , will send You the confirmation of this cancelation.
In case of no-show, if guest won't contact hotel in first 24 hours, and won't confirm reservation, hotel will automatically cancel reservation.